2010 Porsche Cayman Review and Price
About 2010 Porsche Cayman
The 2010 Porsche Cayman is another sports car available to choose from, which is powerful, attractive, and is nimble on the road. It comes off as a hardtop version of the popular Boxster vehicle, but Cayman is fast gaining popularity, which is credited mostly to its superior handling capacity. To learn more about this vehicle, you can get a closer look into its features below.
The 2009 edition of the Cayman underwent some major overhaul, which means little changes are to be expected for the 2010 Porsche Cayman. On the exterior, this two-door sports car comes with a fixed hard top, although it is not convertible. The style and design itself of the vehicle exudes some level of sophistication and comes off rather sleek. However, you can expect the same old curvaceous design that the brand is most known for.
Upon checking out the interior, more surprises await since this two-seater vehicle offers maximum comfort. It has been rated quite well by auto critics, but the most surprising aspect of this vehicle would have to be the roomy cargo space, which can hold up to 22.5 cubic feet of space. In terms of its safety features, there are a lot of features incorporated to ensure a safe driving experience, such as airbags and antilock brakes.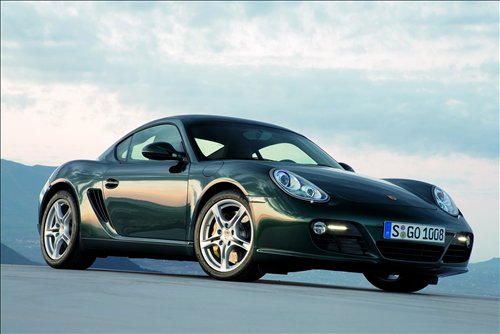 The base engine used for the 2010 Porsche Cayman is a 2.7-liter six-cylinder engine that can bring a maximum horsepower of 260 and up to 201 lb-ft torque. The standard transmission is a five speed setting for manual transmission. An automatic transmission is available only via upgrades instead of being readily available for the base model. This year's Porsche Cayman delivers pretty decent figures when it comes to gas mileage. Fuel economy ratings for this vehicle on the city is 20 miles per gallon, while highway driving is estimated at 29 miles per gallon.
Pro's of 2010 Porsche Cayman
*The nimble handling effect of this vehicle model offers superb driving experience;
*2010 Porsche Cayman comes with a sonorous flat six-engine for maximum engine power;
*2010 Porsche Cayman delivers decent fuel efficiency to provide better mileage on your gas;
*The mid-engine layout for this vehicle model offers more cargo space.
Con's of Porsche Cayman
*The cabin noise can be a bit annoying at times;
*The side supports for this vehicle lack bolstering;
*Although there are several options available for upgrading this vehicle, it can cause the price tag to go up rather quickly.
Pricing Details
The base model for the 2010 Porsche Cayman comes with a starting price of $51,400. However, there are several upgrade options available to choose from, which can easily affect the price increase for this vehicle. In a fully maximized upgrade capacity, this vehicle model could go up to as much as $61,500.
The Bottom Line
The 2010 Porsche Cayman is a great choice for anyone looking to get a vehicle that offers fantastic handling capability. In addition, it has other notable features including above average cargo room space and comfortable seating to enjoy your ride to the fullest. Indeed, this has been a successful entrance into this particular vehicle segment from Porsche.