2011 Spring Bags
The 2011 spring bags are going to be vivid colors of pink, purple, light tan, dark grey, and beige.  Of course, the spring bags cannot have simple names for the colors.  They have to have exotic names to make the bags more appealing.  For example, the purple is called Nuage, pink is Vieux Rose, dark gray is Militaire, and light tan is Mimosa.
The 2011 spring bags come in several sizes.  Some of the bags look as if they could hold everything, including the kitchen sink.  The smallest bag is a clutch purse.  Some of the purses have zippers and others have drawstrings.   Each large and medium bag appears to have several pockets on the outside of the bag.
The spring bags are all one color or have a pattern design to coordinate with the one color.  With the colors, they have chosen for the spring bags, most of the bags will go with almost any outfit that is in your closet.  These bags are from the Balenciaga collection.
From the collections of Chanel, you are going to find 2011 spring bags of various sizes and shapes, with black and grey being the prominent colors.  There are some spring bags of glittery gold, and a light green, but these bags were more of a clutch bag.  The larger bags were of the black/grey design.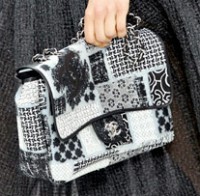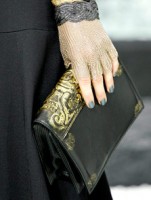 The best 2011 spring bags come from the Louis Vuitton collection.  This designer uses many colors to design the bags.  The clutch bag is not your simple square clutch but has a rounded oval shape.  These are casual enough to be used during the day when you are shopping or going to work, and elegant enough to use when you are out on the town.  Most of the colors are of a darker hue, but they are classy looking.
In their 2011 spring bag collection many styles that mange to combine functionality and elegance to have a finished product that every woman will want to be seen using.  The colors that the designer used blended perfectly.
Between the three designers of 2011 spring bags, the Louis Vuitton collection is the one that has the most possibility of becoming number one in the designing of bags for his 2011 spring collection.