ASUS K52F-D1 review – core i3-380M notebook
ASUS K52F-D1 is a moderate performance notebook powered by the intel's fastest processor in the core i3 series – the Core i3-380M clocked at 3.53 GHz. It is a dual core processor with 3 MB cache, and believe me, it will give you decent performance under most circumstance, unless you are looking for high end computing power, in which case you may have to look at core i5 and core i7 based processors from Intel or the high end Phenom ii processors from AMD.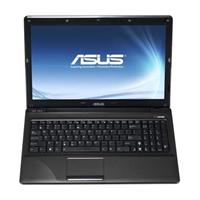 ASUS K52F-D1 Quick Specs at a glance
– Intel core i3-380M processor ( dual core, 2.53 GHz, 3 MB L3 cache)
– 4 GB of DDR3 RAM ( Speed grade DDR3-1066)
– 500 GB Hard Disk Drive
– 15.6 inch LCD screen with 1366 x 768 resolution, powered by Intel integrated HD graphics
– Gigabit Ethernet, Wireless 802.11b/g/n wireless
– Comes with Webcam
Let us take a look at the individual components of ASUS K52F-D1.
Processor
Intel core i3-380M that powers the ASUS K52F-D1 is a dual core processor clocked at 2.53 GHz. The core i3 processors give better performance than the earlier core 2 processor because of its improved architecture, which includes an integrated memory controller and a 3 MB of L3 Cache ( that intel calls smart cache). The processor does not support the turbo boost action, which will lead to inferior performance as compared to the core i5 and core i7 processors.
RAM and Hard Disk
ASUS K52F-D1 comes with 4 GB of DDR3 RAM and 500 GB of Hard Disk. The 4 GB of RAM should be sufficient for most of your tasks including large memory footprint applications. If you are executing several programs and you need to switch between them, a large RAM memory helps by keeping a copy of them in the RAM. The program, then does not need to go to hard disk to fetch the program into memory. This helps faster switching between the programs. At the same time after a certain limit the extra memory does not help, since it stays empty and unoccupied. This threshold limit is around 3 GB for most home and office requirements and 4 GB gives extra space, just in case you need to run some large memory footprint programs
LCD Screen
It is eventually what you are looking into the screen that matters. ASUS K52F-D1 comes with a 15.6″ – the most standard size LCD screen. It has a resolution of 1366 x 768. The graphics is driven by the Intel GMA HD graphics ( which is essentially part of the intel core i3 processor).
Ethernet and wireless
The ASUS K52F-D1 comes with wired and wireless networking feature. Most notebooks and laptops come with these two features as an integrated part of the notebook, so there is nothing new. The only part worth mentioning is that the Ethernet is Gigabit Ethernet which runs at 1000 Gigabits per seconds (or 125 Megabytes per second raw speed). While this will not help in internet speeds ( limited by the uplink and downlink speeds), this will help, in case you plan to use this notebook for home or office networking and assuming your router / hub as well as the other computer is also gigabit enabled.
The Webcam and the HDMI
There are the other two feature that worth mention as part of the ASUS K52F-D1 review. While most notebooks do come with Webcam, not all come with HDMI connectivity features. The HDMI connector will let you connect an external LCD, or other entertainment systems that support HDMI.
Pricing
ASUS K52F-D1 was found to be available at around $700 at the time of writing.
Bottomline
ASUS K52F-D1 has everything that you expect in a home and office notebook. At the same time this notebook is not intended for high end gaming or high performance computing. It fits in somewhere between an entry level notebook and a high performance notebook – not too fast not too slow.
The final decision will depend upon your trust on the Asus Brand and its price. At $700 you may also have some other brand choices with similar configurations – including Sony vaio and Toshiba.