HP ProBook 4720s Review
HP ProBook 4720S is the latest slick black beauty, in the HP ProBook line. Aimed for the business users, it has come quite as a surprise, for neither its looks are boring nor dim, as expected always from the typical business laptops. Like its kin ProBook 5310m, it has a brushed aluminum lid and deck with a glossy black plastic bezel and keyboard mount. Deck and lid is of the distinctive bland coffee color though. Both finishes hold up great against the routine abuse, scratches and sweat prints. It has added strength as well as an appealing look, thanks to the metal covering as compared to the earlier plastic enclosed versions. Also even adding considerable pressure at the back will not distort your graphics because metal does not flex unlike plastic.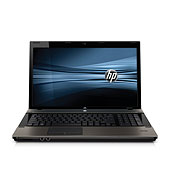 HP 4720s has three other "pre-built" model variations, which differ in the processor, hard disk and the graphics driver chipset.
According to the information available from hp site, these three modes and variations are
HP 4720s-XT947UT -Intel Core i3-380M ( 2.53 GHz) processor, 320 GB SATA, drive, ATI Mobility Radeon HD 63790
HP 4720s-XT948UT -Intel Core i5-460M ( 2.53 GHz with turbo boost ) processor, 500 GB SATA, drive, ATI Mobility Radeon HD 63790
HP 4720s-XT949UT -Intel Core i7-620M Processor (2.66 GHz, 4 MB L3 cache) processor, 500 GB SATA, drive, ATI Mobility Radeon HD 63790
There are three variations of the HP Probook 4820s and this particular review pertains to custom built HP 4720s. HP gives options of a large number of the processor and other variations. The particular model reviewed has Intel Core i5-430M, however, many other things, include the screen, ports, style looks should apply to all models of the 4720s series.
Along with the classy design, this particular model of the HP ProBook 4720s looks good from specification perspective, though, you can always upgrade with better processor at ha higher price. At its heart works a dual-core Intel Core i5-430M running at 2.26GHz, which supports HyperThreading which helps it to act as a virtual quad-core when required. The core i5-430M supports turbo boost feature which temporarily increases the frequency of the processor to cater for sudden increase in the demand of processing power.
HP ProBook 4720s under review has ATI Radeon 4350 dedicated graphics. HP ProBook 4720s comes with 4gigs of RAM, which could be useful if you are running several processes requiring high memory simultaneously. For the operating system you have the option of choosing 32-bit or 64-bit version of Windows 7 Professional. The pre built versions ship with 64 bit version of the Windows 7.
Other features of HP ProBook 4720s include three USB ports, HDMI, eSATA along with a 17.3" LED backlit LCD. Expansion slots include a SDHC-card reader and an ExpressCard/34 slot. It also features a tray-loading DVD-burner.
With all the elegance and class that is part of the package, it's quite inexpensive as compared to its counterparts. It is not an entertainment laptop yet it has a 17 inches wide screen like Toshiba Satellite P505 (8.6 pounds), Dell Studio 17 (7.8 pounds), and Acer Aspire 8940G,and comparatively lighter too with its 6.8 pounds. You will also be surprised by its long battery life of over six hours quite long for a 17inchs laptop. The ProBook`s display is anti-glare with a 16:9 widescreen ratio. Matte finish screen with 1600 x 900 pixels provides excellent high-definition display with brilliant detail, superior color and great contrast. The color saturation and viewing angles are also superior in contrast to the similarly sized notebook screens, no matter you tilt the screen 15-20 degrees closer or farther, sitting in front of it.
HP ProBook 4720s's keyboard is designed beautifully; it has a numeric keypad (brilliant for number crunching and dedicated data entry), all the keys are placed nicely, and there's plenty of real estate to stretch out. Like any workstation keyboard, 4720s shares the same design with 4510s.You will find the keys quite flat with matte texture coming out of an elegant glossy black frame, which is strong in hold as well. The best feature of the keyboard is its quietness when it comes to continuous excessive typing.
The touchpad comes as a disappointment as compared to the wonderfully designed keyboard. The buttons are too stiff .This makes such tasks, as dragging icons, harder than normal. The cursor literally jumps around as you navigate it around the screen. People, who like to use both hands for touchpad, will have a difficult time using it, as pointer will be out of control when they would want to click.It's quite frustrating and a problem we've seen on other HP laptops recently.
As it was not meant for entertainment at the first place, you cannot complain about the speakers` quality. Like some other notebooks it does not provide much real estate to its speakers or a subwoofer. As long as you are streaming music or having a conference call, it's all good, but when it comes to a HD movie I'd rather suggest you use headphones.
For security conscious users, ProBook brings some good news. Along with the fingerprint reader that can be used instead of passwords, its built-in webcam can also be used to do facial recognition log-ins. Besides that, it also has other alternatives such as a log-in system that lets you set up three questions that you can answer instead of using a password.
Concluding here, if you are a business user or want to push your desktop off the desk, this muscle machine is worth a tryout.