Magic Bullet System Review
Verdict
If you are looking for a small and compact, easy to clean blender than also has chopper and intend to use for individual or small  servings. then Magic Bullet System is the one to go.
Looking for the perfect mixer and grinder for your home kitchen? Well, you've got the answer with Magic Bullet Mixer Grinder that will offer you perfect solution for your kitchen needs at an affordable $48.63 price tag. To better understand what this product can do and how you can maximize its features, you can get more details about the features below.
This is a very tiny unit that does not take up more space than your coffee mug on the kitchen counter. Hence, it is a great space-saving device the offer maximum power and functionality. It comes with a power base, 2 blades for maximum grinding and mixing performance, a couple of bullet cups, 2 shaker or steamer tops, 2 lids, and a recipe book that you can use to easily prepare wonderful treats for your family using this grinder/mixer.
Aside from being reasonably priced in itself, Magic Bullet Mixer Grinder is several kitchen devices rolled into one. Indeed, it can perform the job of a coffee grinder, food processor, and blender. And yet, the device is very easy to operate such that you'd love to use it every single time. It comes with dishwasher-safe parts, which makes cleaning and maintenance very easy. In addition, the cups and mugs that are shipped along with this product are safe to use on the freezer and microwave.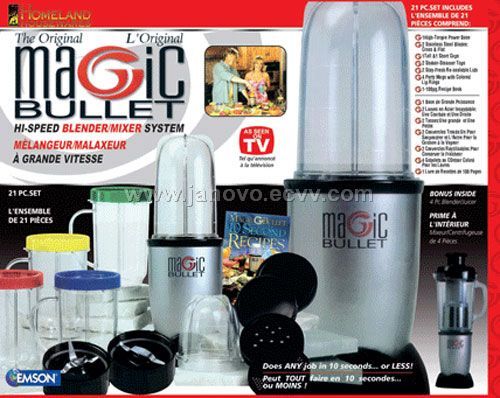 Pro's of Magic Bullet Mixer Grinder
*This product is small yet a very practical kitchen device with its range of functions available.
*It delivers utmost efficiency with its high-torque power base that is made up of stainless steel cross blade to effectively mix and grind any food items.
*The high-speed blender is highly powerful that you can use it to grind, blend, or mix within 10 seconds or less.
*This is a very practical device, which can be used for grinding coffee, preparing fruit juices, or smoothies.
Con's of Magic Bullet Mixer Grinder
*Although this product is backed with a 1-year warranty, which is limited and therefore does not ensure that you can get maximum support from the manufacturer.
*It is very important to read the manual to ensure that you can maximize the use of this product.
The Bottom Line
Some people might not find the Magic Bullet Mixer Grinder to be a little steep when it comes to the price tag, however it will pay off in the end due to the wide range of features available. In fact, you need not purchase other devices as it can perform those other essential kitchen jobs, which saves you money in the long run.